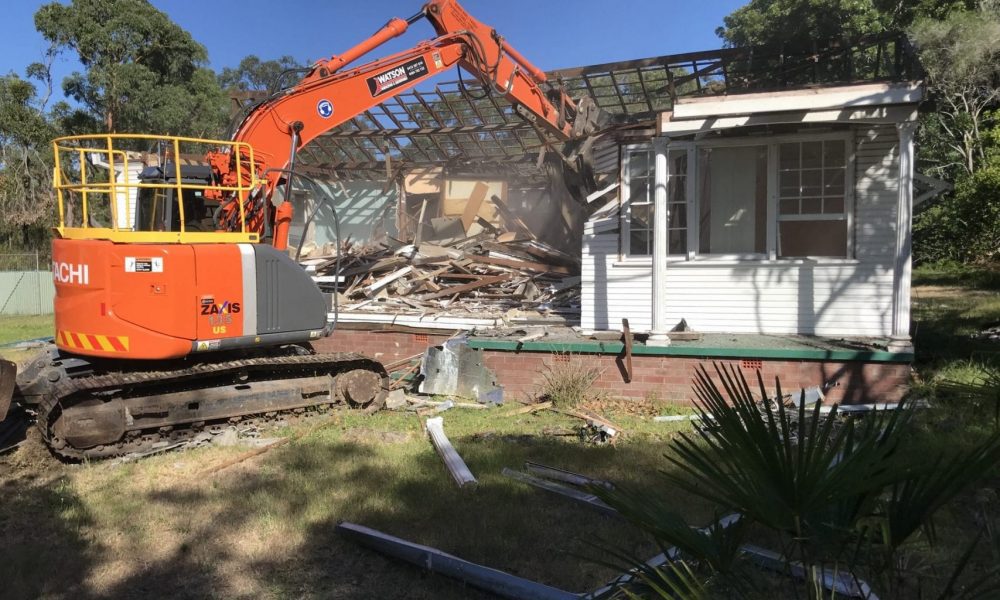 House Demolition & Excavation –  Newcastle, Lake Macquarie & Hunter Valley
Warren and the Watson Demolition Newcastle team and their host of demolition contractors and knock down experts, will carefully plan all aspects of your residential demolition project to ensure your house or other structure is removed with minimal impact on the environment and neighboring properties.
A full-service provider of demolition, excavation and asbestos removal services with a commitment to value and excellence.
Trust The Experts With Your Demolition, Asbestos Removal And Excavation Needs
We are one of the leading demolition and asbestos removal companies in Newcastle and we pride ourselves on providing a high-quality service at a fair price.
We offer a wide range of services, including house demolition, asbestos removal, excavation and demolition, for both commercial and residential clients in Newcastle. Our expert team of professionals have years of experience in this area and can handle any project you may have in mind.
Our professional approach means that you can rest assured that your project will be carried out quickly and efficiently with minimal disruption to your business or home life. We always provide our clients with a clear quote before work begins so there are no hidden costs.
For more information about our services or to discuss your project requirements please contact us today!
The Best Choice for Demolition Services
We provide free estimates and will work with you to find a solution that meets your needs and fits into your budget.
We understand that sometimes a home or building just needs to be torn down. We also know it's a lot of work, and you probably don't want to do it yourself. That's why we've created our demolition services. As expert demolition contractors for commercial demolition and house demolition, in the Newcastle area, you can have all the hard work done for you.
Lets Get It Done
For over 30 years, we've been providing demolition, excavation, earth-moving and land clearing services to private, residential, commercial and industrial clients. We're fully insured for your peace of mind and can handle asbestos removal on your property.
We know how much of a hassle it can be to hire contractors for these kinds of tasks—you don't want to be left with a mess afterwards. That's why we take pride in our quality workmanship and our attention to detail.
Whether you need us to demolish a building or remove asbestos from your home, we'll make sure everything gets done right the first time around!
Why Watson Demolition Newcastle
Free, no obligation quote
Demolition of house & homes of all shapes and sizes
A family company with many years of experience
A transparent process from beginning to end
A clean and tidy workspace with a focus on recycling
Removal and disposal of asbestos and other waste materials
Fully licensed for all domestic and commercial demolition services
Experience dealing with paperwork and local councils
Competitive pricing, we will beat any reputable written quote.
How much does House Demolition Cost?
The cost or price to demolish your home will depend on a few items. The size of the property, the materials that have been used in the construction of the premises, accessibility to the site and if there are any salvageable products. Most times a site inspection will be required to identify these items and to provide an accurate cost or quote. Call the Watson Demolition Newcastle team to book in your site inspection and quote.
How Long Does it Take to Demolish a House?
Demolition of an entire house after all permits and approvals are obtained and services disconnected will usually be carried out within 1 to 2 days depending on the site size and what is to be salvaged or retained.
The House Demolition Process
After you have decided to demolish your house what do you need to do next ?
applying for the necessary demolition permits
disconnecting existing services (e.g. electricity, drainage, gas and water supply)
protecting nearby properties and structures
ensuring that the area's safe for the rest of the public
arranging for salvage or disposal of the demolition waste
Watson Demolition Newcastle can do it all for you.
The process of getting permits and permission for a house demolition can be time consuming and at times complex. Watson Demolition's team can take care of that process for you as we have years of experience in dealing with Newcastle Council, Lake Macquarie Council and the Hunter Councils
Watson Demolition have our own fleet of well-maintained machinery to tackle demolition projects of all sizes, providing our clients with peace of mind that every demolition will be completed as efficiently and safely as possible.