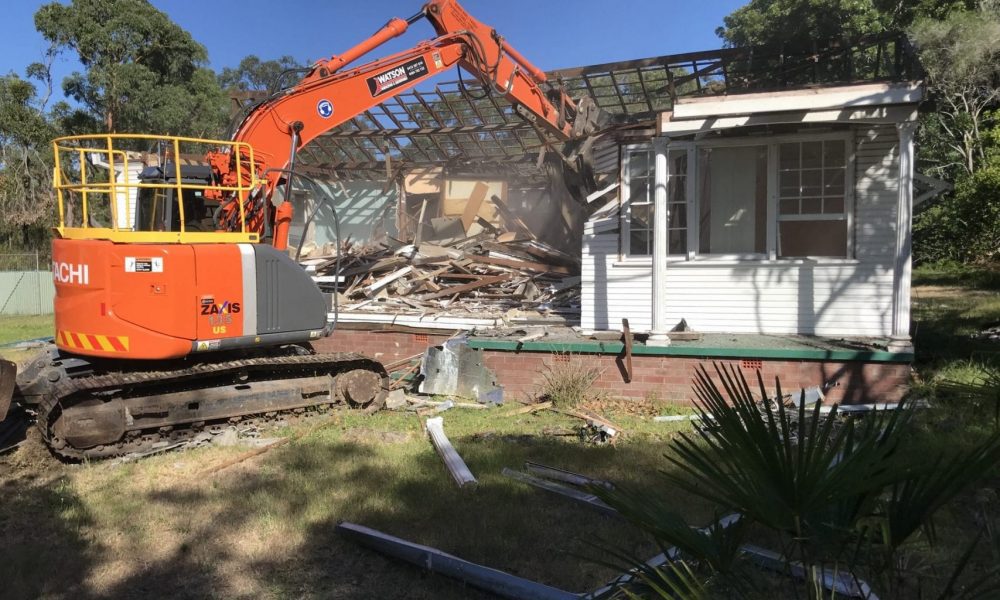 Garage & Shed Demolition –  Newcastle, Lake Macquarie & Hunter Valley
Experienced Garage and Shed Demolition in Newcastle
At Watson Demolition Newcastle, we have been demolishing garages and sheds for years. With our experience and knowledge, we have become the leading garage and shed demolition company in Newcastle. We are dedicated to providing you with a service that is second to none.
We understand how important it is for you to demolish an old or unsafe garage or shed from your property safely, without any damage caused to surrounding structures or property. We also understand that you want this process completed quickly and efficiently so you can get on with your life and enjoy the benefits of having more space in your backyard. That's why we are committed to delivering the best service possible at a price that won't break your budget!
Our team of experts are ready to assist you with any questions you may have about the process of removing your garage or shed. Our team is professional, efficient, friendly, and trustworthy. We'll treat your property with respect, and leave it looking better than we found it. We have all the tools necessary to do a great job—we just need you to tell us what kind of garage or shed demolish service you're looking for!
Everything You Need To Know (FAQ)
What if asbestos is found in my garage or shed?
If you have asbestos in your garage or shed, it is important to remove it as soon as possible. Asbestos is a cancer-causing mineral that has been banned from use in most commercial products, but in some cases it can still be found in older homes or buildings.
The best way to ensure that there is no asbestos in your garage or shed is to hire a professional to inspect the property for you. A certified inspector like Watson Demolition will be able to conduct an inspection of your property and determine whether or not there are any traces of asbestos present.
What services does Watson Demolition Newcastle provide?
Garage and shed demolition and removal are what we do best. We have been demolishing garages and sheds in Newcastle for years, and are now  the leading garage and shed demolition company in Newcastle. Garage demolition in Newcastle is the best way to get rid of your old garage and restore your property back to its original condition.
We can remove any type of garage or shed; commercial or residential, new or old, metal or timber. Our team will come to your property, assess the situation and give you an accurate quote for removal that is tailored to your needs.
How long does it take to demolish a garage or shed in Newcastle?
Garage and shed demolition in Newcastle is a process that requires planning, so we always recommend giving us a call as soon as you can to book an appointment. We'll come out and assess the situation and let you know what we're going to do and how long it will take.
In most cases, we can complete the job within one day, but this will depend on the size of your structure and where it's located. If you have any questions about how long the project will take, don't hesitate to contact us!
What are the benefits of hiring a professional garage and shed removal company?
There are a lot of benefits to hiring a professional garage and shed demolition company. The first is that they will have experience in this field. They will know how to use the right tools for the job, and they will know how to handle any problems that arise during the process.
Another benefit is that they will be insured. If something goes wrong, you won't have to worry about it being your responsibility—the company has insurance that covers their work, so you don't have to worry about anything going wrong.
Finally, if you hire a professional garage and shed removal company, they can help you with other aspects of your project. For example, they may be able to recommend contractors who can build or repair something on your property once they're done removing the garage or shed!
What do you charge for garage and shed demolition?
We provide free estimates for all of our services. The cost of a garage and shed demolition depends on the size of the structure, how much time it takes to remove it, and any additional services that you may need us to provide.
The cost can also vary depending on whether you want us to dispose of the materials or if you would prefer to keep them.
Do you have any tips for garage/shed demolish?
The most important thing to remember about demolishing a garage or shed is that it's a big job. Make sure you have the right tools and equipment for the job—you don't want to make things worse by using the wrong tool for a job, or by doing it at the wrong time of year.
If your garage or shed is in good shape, you can usually just remove it with a crane. The crane will lift it out of place, then drop it on its side so that it can be driven away to be recycled. If your garage or shed is in bad shape, you may need to break it down into pieces and move them away with heavy machinery.
Why should I choose Watson Demolition Newcastle for my garage/shed removal?
At Watson Demolition Newcastle, we're proud of the fact that we've been providing garage/shed demolishing services for over a decade. We know that when you need your garage/shed removed, you want to be sure that you can trust in our years of experience and commitment to excellence.
We believe that quality matters—and that's why our team is fully insured, trained, and skilled in all aspects of garage/shed removal. We'll make sure to do our best work for you, and we'll take care with your property throughout the process.
Will there be any mess left behind?
No! All of our materials are recycled or disposed of properly by our friendly crew. We don't want to leave you with a mess—we only want to help you get rid of your unwanted garage or shed so that you can enjoy your new space!
How Long Does it Take to Demolish a Garage?
Demolition of an entire garage (after all permits and approvals if required are obtained and services disconnected) will usually be carried out within 1 day depending on the site size and what is to be salvaged or retained.